I often find life gets so busy that I become more
focused
on the
things needing
to be done or bought,
instead of reminding
myself
of the things that I already have!
I was inspired by Gracefully Made's idea of giving thanks on a weekly basis.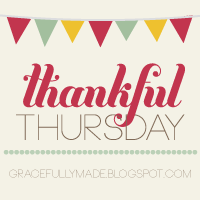 Today I am thankful for ...
*Trumpet flourish*
! Inspiring blogs & their creators !
Being a newbie at blogging, I get so excited whenever I find new blogs I instantly connect with (this happens multiple times a day!) I get so inspired not only by the blog, but more importantly by the person behind the blog.
Blogs are a great window into the lives of incredible people.
Even though they may be
half
way across the world, you can still feel connected to them and their lives.
I highly recommend you check these out!
I am always on the search for fresh inspiration and bloggers who I can connect with on a personal level. If you have a blog you would like me to visit, leave me a comment below and I will be sure to check it out!
What are you thankful for today ???
(Tell me below!)

.
.............
"Give thanks to the Lord, for He is good. His love endures forever!"
1 Chronicles 16:34